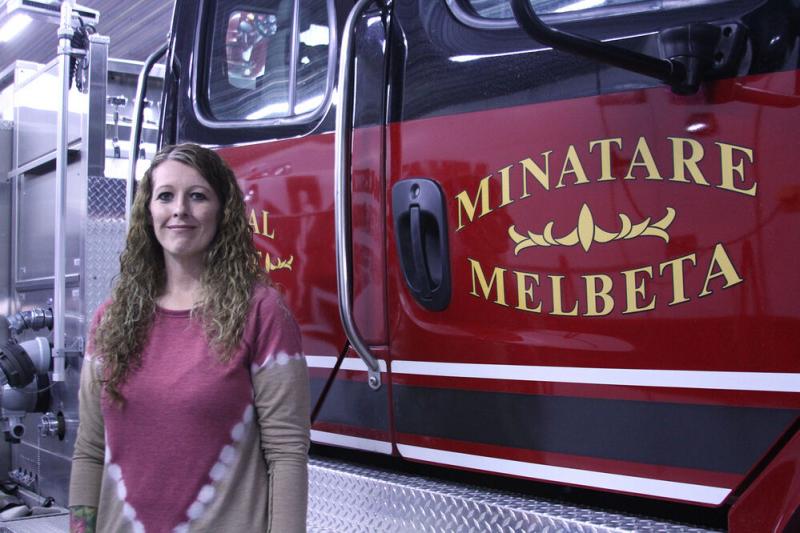 Making History / Minatare Fire Chief Brandi Ehler
MAKING HISTORY 1ST WOMAN FIRE CHEIF

She's got 10 volunteers in the Minatare-Melbeta department, with only three EMTs currently on the force. She now works as an EMS instructor, and hopes to get two more people certified. She said it's hard to get people interested in working for free.

"It's not just us, a lot of departments are struggling with recruitment," she said.

It's not an easy job, she said. There's plenty of midnight calls, and she wants to keep the small force from burning out, and hopes to push for more recruitment and trainings this year.

She's not the only woman on the force. She inspired her daughters, Ashlee Wells, 19 and Lashae Ehler, 20, to join as well.

The pay is $150 a month, and the hours long. Ehler also has her own business, Building Blocks daycare in Gering, meaning she has some flexibility to try and get to every call.

She said, like everyone else, COVID impacted their department's operation.

"It's changed the whole lifestyle of our class. We mask just like everybody else, we're trying to protect our people from getting sick," she said. "It's really hampered our trainings."

Ehler said training is a core part of her mission at the station, saying that wildfire season this year could be grim if drought conditions worsen, which could spawn another incident like the dayslong fire that burned 4,000 acres in the Wildcat Hills.">Brandi Ehler has a moment which splits her life into a before and after: the summer of 2013, when her house in Melbeta burned down. "Our community's amazing," she said. "They helped us out so much that I figured the least I could do to give back was joining the fire department."

In the aftermath, she joined the volunteer Minatare-Melbeta Fire Department, climbing the ladder to emergency medical technician, a lieutenant, a safety officer, search and rescue diver, and assistant chief to Brian Lore.

Now, after seven years, she's the fire chief & the city's first woman to hold that position, after Lore stepped down in November.

Ehler grew up south of Lyman, a farm kid, who didn't anticipate fighting fires in adulthood.

"I never expected to get where I got. It was a big surprise," she said. She oversees a combined rural and city fire district spanning just over 300-square miles. It covers all of Minatare, McGrew, Melbeta, a portion of Banner County and a part of Sioux County. It also includes the town's namesake Lake Minatare, the Panhandle's largest body of water. That's a lot of ground to cover.

"The nice thing is we have what's called a mutual aid agreement. So we work a lot with other fire departments. So if we ever have a major call, we can depend on them," she said.